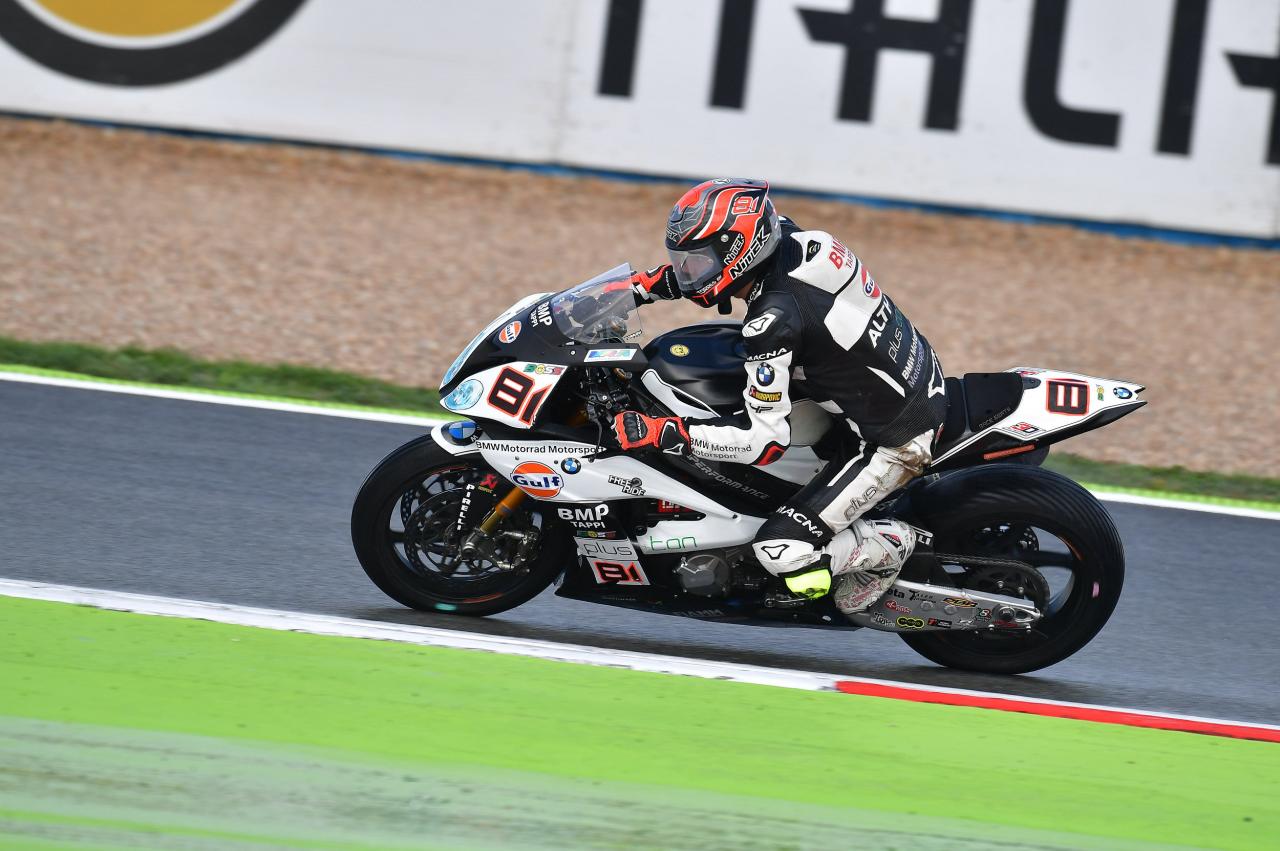 Nevers (France), Sunday 1 October 2017

The eleventh World Superbike round has concluded today at the French track of Nevers Magny-Cours and for the Althea BMW Racing team it was all about the recovery, with Jordi Torres finishing in eighth place, Raffaele De Rosa tenth.
Superpole 1 - riders faced wet conditions during today's Superpole. Both Torres and De Rosa were both out in the rain for this first phase. De Rosa made six laps, the fastest of which was his last, completed in 2'04.718, which placed him ninth at the session's end. Struggling to build confidence in the difficult conditions, Torres unfortunately crashed four minutes before the end of the session. He was able to continue but without improving any further on his times, thus closing in tenth place. Both Althea BMW riders therefore qualified on row seven of the grid for race one.

SBK - Race 1: with work to do, from 19th and 20th on the grid, De Rosa and Torres hoped to do well in this first race despite the wet track. Making up a few positions over the first two laps, they were lapping 'together' in 16th and 17th place. Unfortunately, the pair lost ground during the first half of the race, struggling to find the rhythm needed to catch those ahead of them, separated by several seconds and perhaps more confident in the tricky conditions. In the final phase though, on a gradually drying track, the two Althea BMW riders upped their pace, earning a further three places apiece to cross the line in 13th (De Rosa) and 14th (Torres) position.

Superbike - Race 2 – with light rain falling in certain sections of the track, Torres and De Rosa got away well from 20th and 21st place respectively, immediately making up several positions each. During the course of lap two, De Rosa was able to progress from thirteenth to tenth place, while Torres positioned eleventh, right behind his team-mate, by lap four. Lapping with similar lap times to each other, Raffaele and Jordi swapped places on lap nine, lying ninth and tenth mid-way through the race. Maintaining a constant pace all the way to the line, Althea BMW powered past the chequered flag in eighth place with Torres and tenth with De Rosa.

With two championship rounds left to run, Torres retains ninth place in the standings with 140 points while De Rosa has 45 points, and positions 16th.
Jordi Torres - Race1: "It's been a tough day in the rain, as I expected. I crashed already in FP3, hurting my back. Then in Superpole, I lost the front, crashing for a second time. So the important thing was to finish the race, considering the risky conditions and how my previous sessions had gone. I started out OK but was perhaps too cautious at the start. I made a few laps right behind Raffaele but when he started to push later in the race, I struggled to find the right confidence. Let's hope that tomorrow is dry and we are able to complete a good second race."
Jordi Torres - Race2: "We were starting from the back of the grid and knew it would be tough, also because it started to rain right when we were on the grid. Through the first laps, I tried to understand the level of grip but think I lost too much time during the phases in which it was raining. It was a strange race, in mixed conditions, and I don't feel that I gave 100% because with the rain I held back a little too much perhaps, not managing the race as well as I could have. We'll take what we've learned here though and move on to Jerez…"
Genesio Bevilacqua: "Definitely a tough race considering the conditions, but particularly due to the fact that we're not yet able to effectively interpret the bike's potential, which is not bad. We're having some difficulties, especially over the first laps, and this then conditions the rest of the race. To be honest, I expected more of both riders; they clearly weren't able to get the best out of the bike. They had problems but, having seen their lap times towards the end of the race, which were pretty good in fact, I believe that if they'd been able to make more of the central phase, they could have achieved better results. I think that both riders need to give a more concrete performance as of the next race."
---