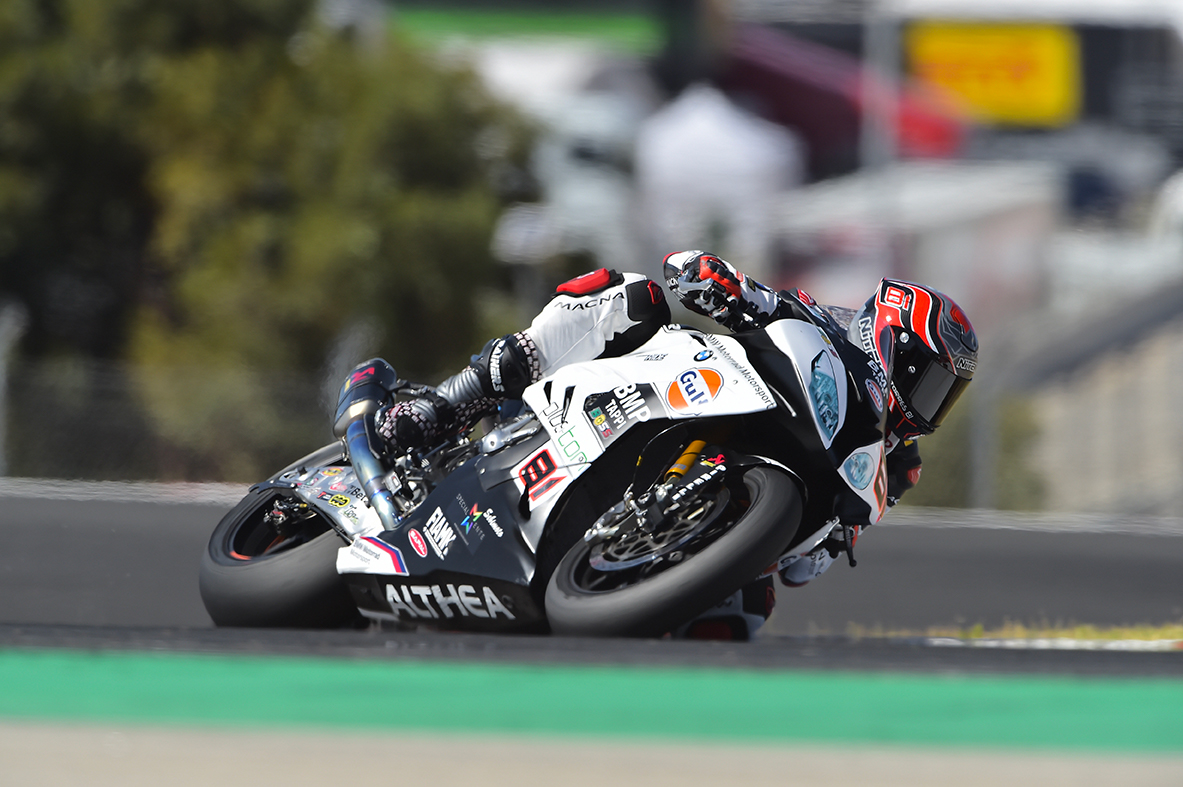 The Autódromo Internacional do Algarve played host to race 1 of the tenth round of the Superbike world championship this afternoon, a race in which the Althea BMW Racing team closed in a positive sixth place with Jordi Torres and eleventh with Raffaele De Rosa.

Superpole 1: both Torres and De Rosa participated in SP1. After having completed a series of fast laps, Jordi moved into first place in the final seconds, setting an impressive best time of 1'43.191 and thus gaining access to SP2. Raffaele set a fastest lap time of 1'43.918, closing fourth as a result, which translated into fourteenth position on the race 1 grid.
Superpole 2: Jordi immediately placed third in this second phase. Able to further improve on his time in the final minutes, and with a best of 1'42.586, the Spaniard concluded in sixth position, so a place on the second row for him in race one.

SBK - Race 1: Jordi lost several positions as he set out from sixth on the grid, lying eleventh after one lap. Earning one place early on, the Spaniard then caught and passed Forés on lap six and Savadori on lap eight. Placing seventh by mid-race, the Althea BMW man continued to fight, managing to chase down Laverty and pass him on lap sixteen. Thanks to Torres' determination and constant pace, he crossed the line in sixth place today, a positive outcome at what the rider considers a tough track.
Raffaele lost a few places at the start when he made contact with another rider and then made a small mistake. The Italian then battled to catch up from fifteenth place, clawing back three places in the central phase of the race. Lying twelfth on lap thirteen, De Rosa made up one more position in the final laps to cross the line eleventh.
Jordi Torres: "We were really strong in SP1 and then set some great times in SP2 as well, which meant we could start the race in sixth position. Unfortunately, despite the grid position, we lost ground at the start, as we often do, due to electronic issues. This penalises us and then I'm left with a lot of work just to make up the ground we lost off the line. After a few laps, I got into a good rhythm though, passing several riders though I'd have liked to catch van der Mark and Camier too, not possible today unfortunately. Tomorrow I hope to do better..."
Genesio Bevilacqua: "A fairly significant race one as far as Torres' result is concerned as, after a great qualifying session, he was able to finish sixth in the race too. He was penalised by the start where, as usual, we had a few problems but I'm nevertheless pleased with our rider's performance. We'll try to improve for tomorrow's race and fight for the positions that count. On the other hand, Raffaele continues to struggle a little at each track. The team is doing everything it can to put him in the best possible situation but up until now he appears to be in difficulty. We'll continue to give him all our support, in the hope that he can improve his performance as soon as possible."
---